Did
that
get your attention? I hope so! If you thought this was going to be an X-rated post, well sorry, but it's still a lot of fun despite the G rating.
This month I have the pleasure of guest designing for Skipping Stones Design. Today, they are debuting their newest release, Bras Vol. 3, with a blog hop. What a fun set. While I could use a couple new bras to give my girls a lift, these cute stamp images definitely lifted my spirits. The set comes with two bra images and several fun sentiments.
Here is the card I made based on the sketch below. Some of you may recognize the sketch. Skipping Stones is doing a sketch rewind this month. Today's rewind sketch is from Teri Anderson. Instead of circles, I used the bras. I thought it would be fun to make it look like they were placed precariously along a fence, as if they were hanging out to dry. The outside reads "Bras are like great friends." The inside reads "They help when you've fallen and can't get up."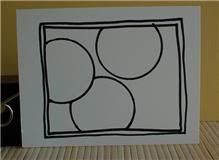 These bra images are perfect for paper piecing on pretty patterned paper. You'll notice another set in there, too. The "weeds" in front of the fence are from the Dandelion Dreams set.
I hope you're enjoying the hop so far. Next stop is
Joann
. Here is the full lineup:
Annette <----- That's me!
And if you're not too tired to hop later this week, I am celebrating two years of blogging with a hop on Saturday. I have a fun lineup for you and I will be giving away not one, but two prizes!!